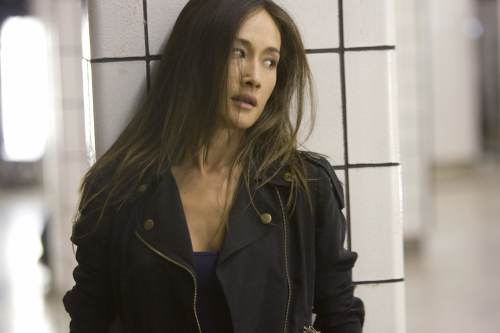 As a La Femme Nikita fan, I was a bit curious into the approach to this new premise "Nikita". I was skeptical at first, I didn't think anything could compare to "La Femme Nikita" and it still didn't. Peta Wilson has left difficult shoes to fill. So without "La Femme Nikita" in mind, I tried to view this one objectively, but it made it difficult for me in the beginning. I like to give every series a chance and there were some interesting new plots that would sustain my interest into the next episode.
Still there were moments that resembled the older versions that came off very cheesy.
Running the operation through a new recruit; Alex was unexpected, but "Nikita's" storyline was a bit off.


Nikita stumbles upon her step-dad's door step and confines him to his home. There is an implication of abuse in her past with him, at least something that caused her to run away from home. Based on her memory, "Division" aka "La Femme Nikita's" "Section" equivalent, told her she killed someone she could not remember and gave her a second life. Somewhere down the road they turned on her and she remained in hiding for three years. She fell in love with a non-operative; Daniel, and Division killed him.

There were so many linked parallels between these similar series that made it impossible for any "La Femme Nikita" fan to ignore. The acting was mediocre, but for some reason Nikita could not measure up to her predecessors. The most time Nikita was portrayed in bikini wears, the first being in a dream-like-nightmare of hers. She, for the sake of vengeance is on the verge of bringing the Division that took her life away from her.

On a basic note, for those not into the Nikita themed series and movies upheld before, watching this series for the first time would add to an interesting taste for a Thursday evening. Those who missed out on Alias themed spy shows, could take a look at this to past time, or recollect on old memories. The action scenes in particular were phenomenal to an extent and there were some interesting characters that would capture your interest.

For those familiar to the older editions, Birkhoff, Michael and Nikita were the recurring roles, while Amanda played the role of Madeline and Percy for Operations. The status remains unchanged, if we were to make a somewhat link to "La Femme Nikita", Shane West as Michael does not compare to Roy Dupuis' divide and conquer version. In fact the connection that was supposed to be between Nikita and Michael was like an outed fire, if there was ever a real fire burning. For the pilot, there wasn't much to pull your interest, except for the action scenes, which in itself has been executed before. Still the "Cleaner" guy who remains a puzzle and wasn't truly elaborated before, stroke a curiosity. The slaughter scenes with him were further than simple, more complex than average; which painted him as the blood thirsty villain. Nikita deliberately avoided a fight scene with him, which was fair enough a strong theme going for "Nikita".

Slight difference in character, this Birkhoff seems a bit squeamish, close enough to a weasel. He showed no remorse before he tried to assassinate Nikita. They obviously formed some relationship when they worked together, but Division comes first, and he fears them more. Another character that was not introduced was Walter; the handler of the weapons. We have some new characters like Jaden, comes off as a threat in the beginning, but it appears as though she and Alex would become friends, probably even close.

The most interesting plot that was unexpected was Alex and Nikita knowing each other, and forming what looks like a pact to bring down Division together. Still it wasn't enough for a pilot; there were too many cheesy plots that I fear may question its future as a long lasting series. it is something to watch in the mean while, not as cutting edge.

For the guys, having Maggie Q in her undies would have probably distracted them long enough to neglect everything else. For me, her best scene was when she woke up from her nightmare in her coat, seemed so simple, yet pulled off with finesse. Everything else was like a deja-vu pilot.

Still hoping for the best.



Lexa



___________

Three Stars



Grade C+


___________