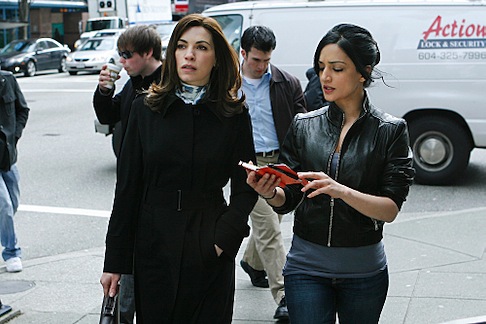 Not many wives could say they've been through the drama of public humiliation and scrutiny, then to turn around and become a model mother. Alicia Florrick has a lot on her plate, but there are still a few questions left hanging in mid air:
Did her husband do the things he was accused of?
Did he have an affair?
We have the tapes, the recordings, the pictures, but all those could be altered to anyone's benefit. Alicia's son already proved that the pictures were fake, so what else is fake?

Alicia had to face whether or not her client was the ex lover of her husband. She also had to debate whether or not to listen to the tapes of her husband's affair plastered all over the internet. What stretch is Agos playing at, sending her the link to the sex tape online. What made him think she wanted to hear the bit. He obviously has some sort of edge which makes him watch her closely as though he was threatened by her.

Lockhart is another character which seems threatened by Alicia, probably because it is her relationship with Will Gardner. I'm surely routing for them to get together.

What I uncovered so far from this mystery is that Glenn Childs went public with the tape of Peter Florrick's affair and we know it's because he felt threatened by him and possibly even ploy-ed a personal vendetta against him for his own benefit. Why else would he continue to taunt Alicia.

Although Alicia failed to grant her client a guilty verdict so her attacker could get a stay behind bars, she got her victory in the end.
The Judge was loosely liberal indeed, 'a moment of silent please' and he was serious. What could anyone say?

'The Good Wife' shows great potential and the mystery within it is surely one awaited to be discovered.

I am still not a fan of Alicia's husbands who can't seem to give his wife a straight answer. At least we all know Alicia's son wasn't checking out porn, although the thought was intriguing relaying the temptations of the youth.

What did Alicia gain by listening to the tape in the end? Closure perhaps?




Lexa



___________________________________

Four an d a half out of Five Stars



Grade B+


___________________________________